Narratives of the Tibetan Diaspora
What does life look like in Chicago for members of the Tibetan Diaspora? What are their migration stories and views on American culture? How have they preserved their sense of Tibetan identity and community? Please click on any of the images below for insight from 4 Tibetan community members.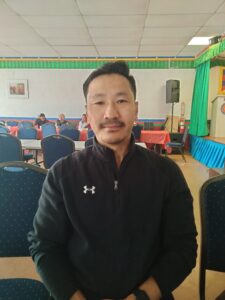 Tibetan Alliance of Chicago (TAC)
The Tibetan Alliance of Chicago (TAC) is a mid-sized building located behind a popular halal restaurant in Evanston. The building is easily discernible, for rows of colorful Tibetan prayer flags are strung along its exterior. They flutter in the ever-present Chicago wind, like wings prepared for flight. Upon entering the TAC, one will immediately notice a grand performance stage, adorned with green curtains, portraits of religious leaders, and Tibetan and American flags. This stage is located in the common room, which is adjacent to the kitchen. The TAC's kitchen has just one sink, a wooden countertop that rests on a bucket, and a propane tank that heats a metal wok. Yet it defies all the culinary odds. From this makeshift kitchen, members of the Tibetan community create the most mouth watering dishes, filling the air with savory aromas of creamy dals, chicken curries, and fresh buns.
Our project, "Narratives of the Tibetan Diaspora," centers around the identity of four Tibetans living in Chicago. Their individual testimonies were collected through on-site interviews at the Tibetan Alliance of Chicago during the center's weekly Sunday school events. Participant observations at Tibetan community events, such as the Panchen Lama's birthday celebration, were also conducted in order to further support our research. Themes of family, community, culture, and migration were emphasized in every conversation, which illuminates the collective identity of our four interviewees.
Red, green, white, yellow, and blue Tibetan prayer flags are strung along ropes in front of a light blue fence.
A man and a woman cook in the TAC's kitchen. The woman is to the right of the man, and she is peeling garlic cloves over a makeshift counter. The man is cooking chicken curry in a wok that is heated by a propane tank.