Role of Community Gardens
Contributors: Jonathan Allen, Gavin Atack, Tejas Balaji, Tara Makhija
History of Environmentalism in Chicago
The environmentalism movement began in Chicago as early as the 1850s, with protests against poor urban conditions that caused cholera outbreaks. By the 1970s, environmental justice organizations began gaining traction in Chicago, with groups like People for Community Recovery and the Southeast Environmental Task Force combatting systemic environmental inequalities. The battle against these inequalities continue today, with environmental groups fighting against water shutoff rates and air pollution in underfunded areas.
History and Benefits of Community Gardens

Community gardens have played an important role in the US environmentalism movement since the 20th century. Inspired by 1890s "city commons" that provided services to the unemployed, community gardens gained traction as a reaction to World War I. These gardens produced food to support the war effort, and continued into World War II, during which gardens bolstered national morale and community building. After a brief decline in popularity, community gardens were revitalized in the 1970s, largely due to high food prices and poor urban conditions. Since the 90s, they have served youth, elderly, and immigrant populations. Research suggests that community gardens aid impoverished communities, decrease crime rates, and improve mental health among youth and elderly populations.
El Paseo Community Garden

Since their inception, community gardens have strengthened American communities, especially during times of national crisis. They have served low-income, youth, and elderly populations in particular. The historical role that community gardens have played in the environmentalism movement is reflected in El Paseo Community Garden.
In accordance with the historical role of community gardens, El Paseo created a community-strengthening space that also furthered environmental goals by converting a brownfield site into a natural preserve. They involve the community by offering open events like the 13th Annual Harvest Festival, and provide opportunities for gardening and harvesting through their Permaculture Site. Similar to past community gardens, El Paseo focuses on elderly and youth communities. They have partnered with students at the Horizon Science Academy and are collaborating with the nonprofit Human Scale to increase garden accessibility for seniors.
These community strengthening services are reflected in other modern community gardens as well.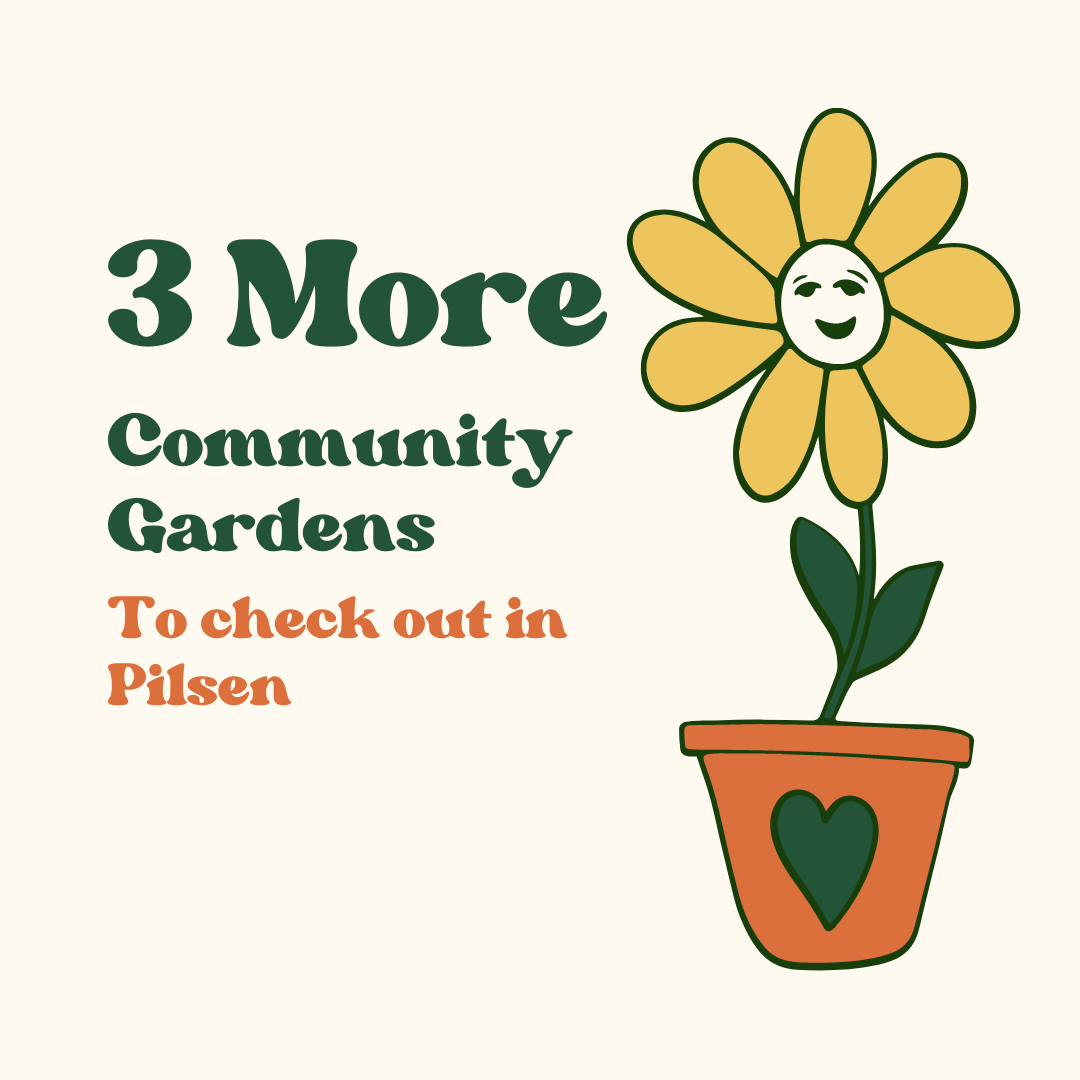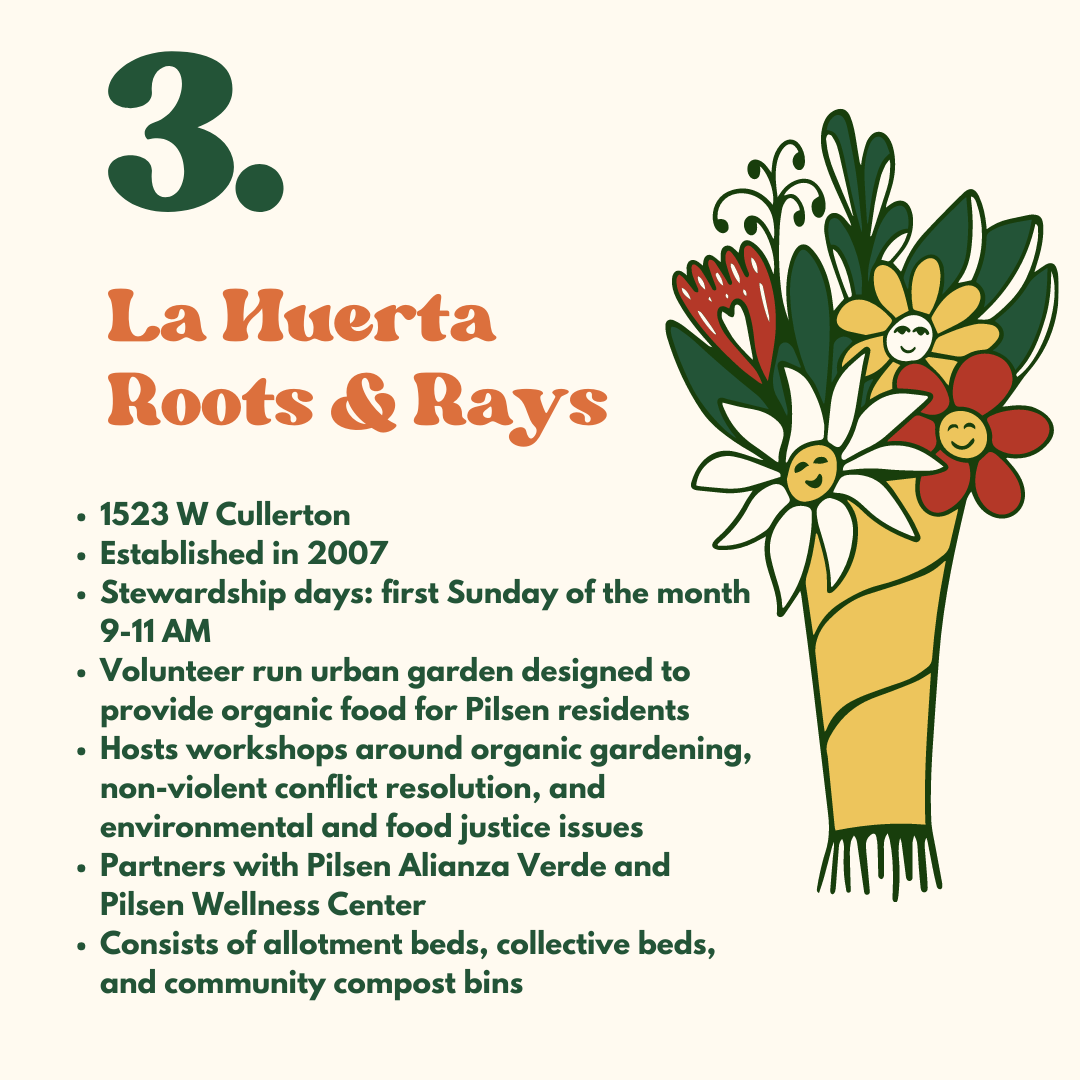 Similar to El Paseo, these three community gardens provide services that are highly reflective of the role that community gardens have played throughout American history. They all provide opportunities for the community to come together through classes or stewardship days. Furthermore, they all provide recreational or educational services targeted at specific demographics, such as the youth or the elderly. Historically, community gardens have filled in for formal government authorities in the realm of community building and healing, especially in the midst of crises and policy failures. Although these community led efforts have made significant contributions, they still face numerous challenges amidst nation-wide policy failures.
Data on Environmental Injustices
As many know, lower-income communities typically experience the brunt of the negative environmental and health effects of urban development, a pattern that holds especially true to Pilsen and the Lower West Side communities. Below, contrasts between health factor trends in Pilsen and Chicago are shown to contextualize the effects of environmental injustices on communities. Insights gleaned from the recent increase in water and air pollution, improper toxic waste disposal, and illegal dumping complaints made to the CDPH will also be provided to demonstrate that these injustices will likely worsen before they can improve if untouched. Lastly, recommendations for roles that community gardens could possibly take on in fighting these environmental justices as an evolution of their historical use of providing relief of some sort to communities will be explored.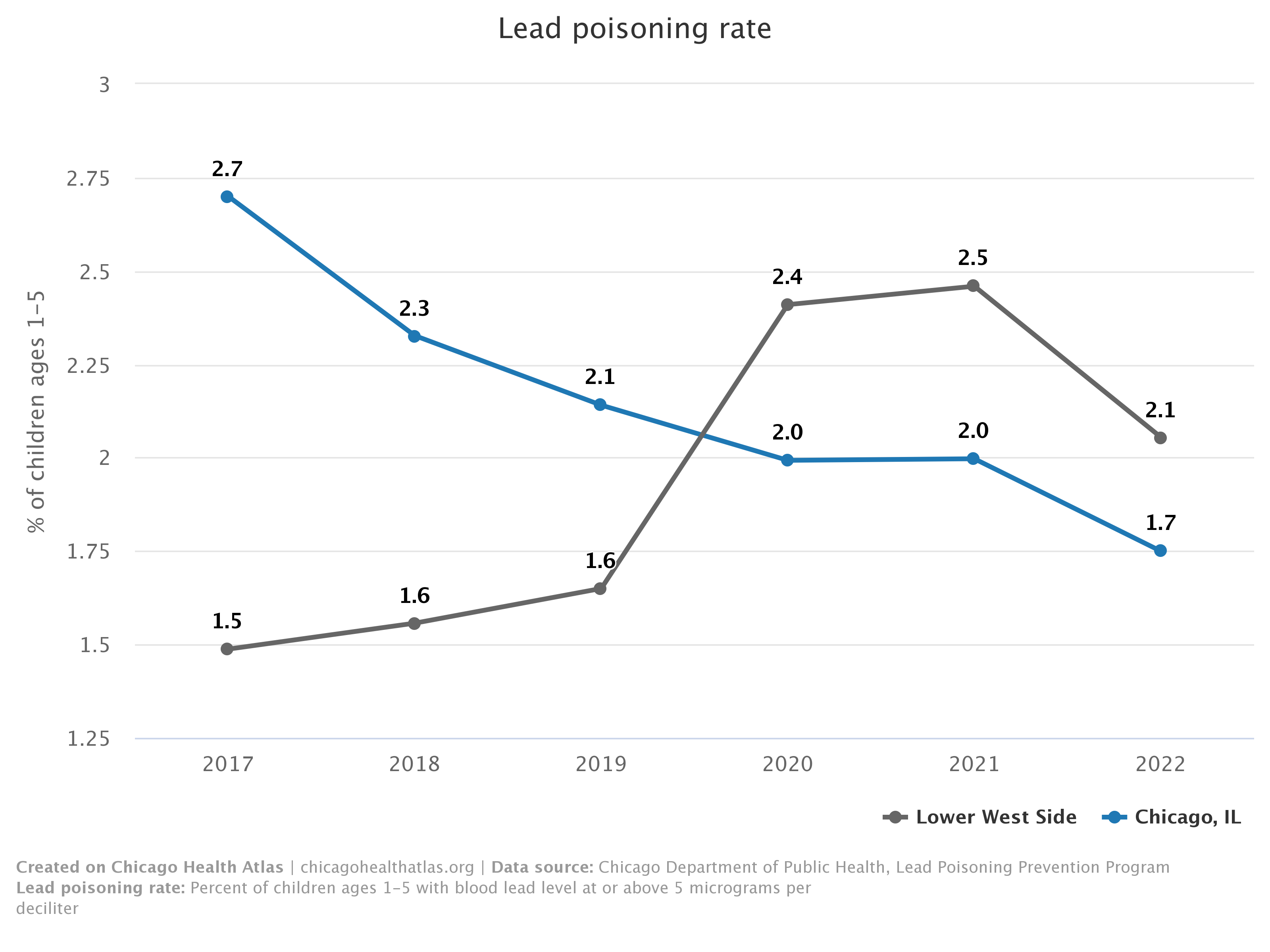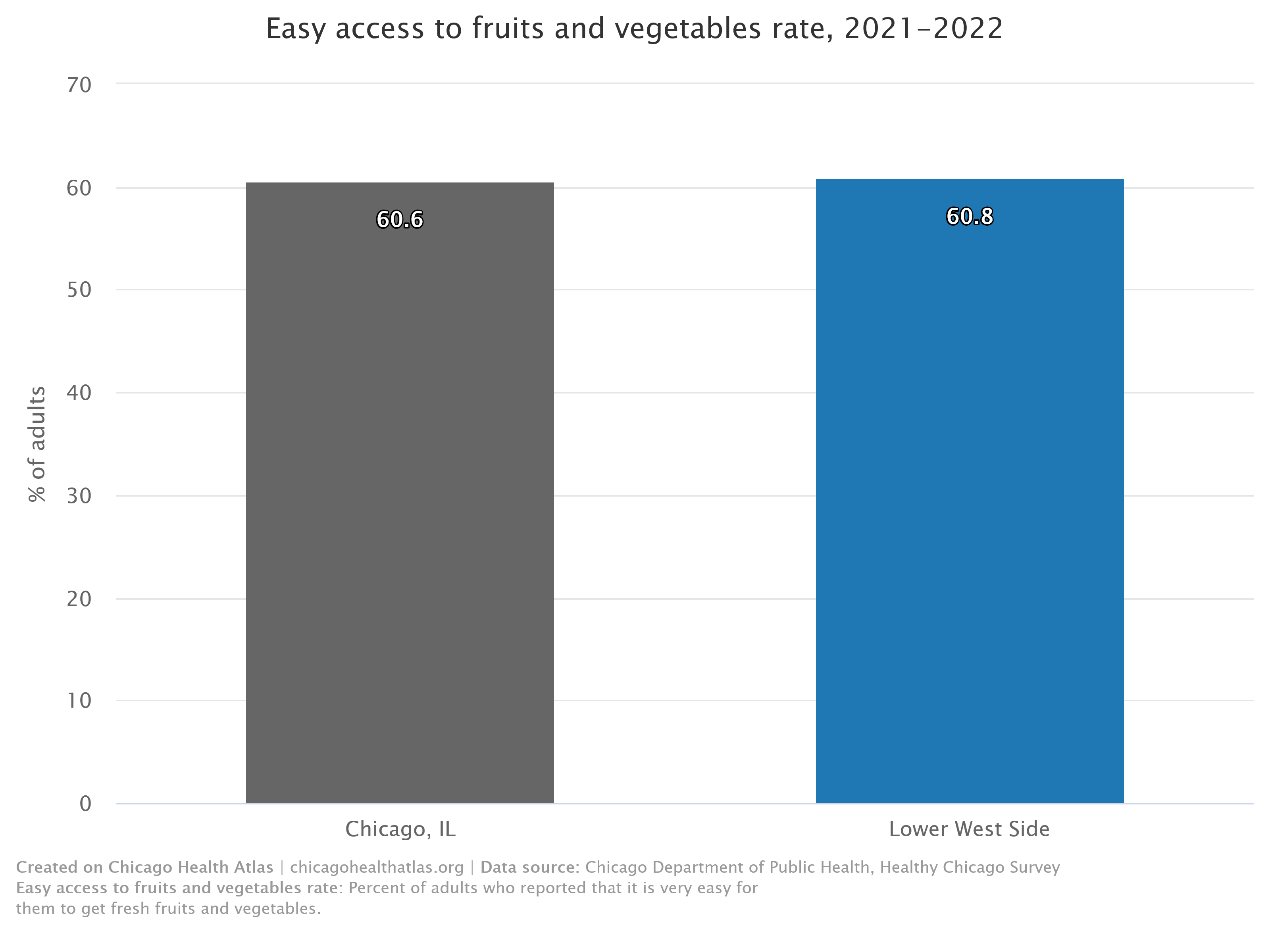 Chicago Department of Public Health Data for the Lower West Side

Click on the legend to learn more!
| | |
| --- | --- |
| Year | No. of CDPH Complaints |
| 2014 | 16 |
| 2015 | 16 |
| 2016 | 18 |
| 2017 | 13 |
| 2018 | 19 |
| 2019 | 18 |
| 2020 | 42 |
| 2021 | 65 |
| 2022 | 62 |
| 2023 | 11 |
Data source: Chicago Data Portal
Shown above are the changes in the rates of certain health factors expressed as a percentage or number of incidents per 100,000 people on the right; the left displays the relative percentage change in these health factors using the first data point as a reference point. Together, these graphs reveal the following:
Between 2014 and 2021, the city saw a 18% decrease in their lung cancer mortality rate over those 7 years while Lower West Side's (LWS) mortality rate only decreased by 2%. Though this certainly shows the LWS not experiencing the same health improvements as the city on average, it should be noted the LWS's rate was already far substantially lower than the city average.
Asthma-related hospital discharge rates in the 60608 zip code (an area containing much of Pilsen and El Paseo) peaked after increasing by a factor of 47% from its 2010 rate in 2012, where it would remain before a large drop in 2016 experienced by both the city and 60068. In stark contrast, the city average saw an uptick by a factor of 4% from the 2010 rate. Additionally, while the city's hospitalization rate continued to decrease after 2016, 60608's rate saw an increase over the 2010 rate by 22% in 2017. This demonstrates a clear discontinuity between the worsening of air quality in the LWS and the improvement to the city's average air quality.
Between 2017 and 2022, the LWS child lead poisoning rate increased by a factor of 38% 2017 rate while the city average fell by a factor of 36%, with the LWS peaking with a 65% increase in 2021.
Between 2021-2022, the LWS saw a 31.8 decrease in its easy access to fruits and vegetables rate while the city saw a lower 27% decrease.
Between 2015 and 2019, the LWS saw a 9% increase in its low food access rate while the city only saw a 3% increase.
Starting in 2020, CDPH incident reports in the LWS concerning illegal dumping, water quality, air pollution, and toxic waste began to greatly increase, hitting a peak of 65 in 2021 with many of these incidents being related to Sims Metal.
Despite an increase in CDPH incident reports and worsening of several health factors, only 9 CDPH events have been held in the LWS since 2018.
Since 2012, Sims Metal has generated 111 CDPH Environmental Incident Complaints

Barely anyone or anything else comes even close – Ormeus Materials came in second with 5 reported incidents compared to Sims's 40 incident reports in 2021 alone.
Sims Metal has also incurred 44 CDPH violations that have led to enforcements since 2001.
Possible Roles Gardens Can Take in Fighting Injustice
Considering the relative absence of public-facing CDPH campaigns or efforts within the LWS and persistent worsening of several health factors, community gardens may be able to transform their historical roles of providing aid to communities during difficult times into roles that try to actively aid their communities. Low food access and easy access to fruits and vegetables are two public health factors gardens may help improve by creating programs for schools and/or families to receive vegetables from these gardens on a regular basis. However, for issues such as air quality and increasing rates of disease, gardens may serve as areas where information relevant to combating these environmental injustices can be disseminated. While community gardens certainly provide heaps of benefits to communities in their current state, their existence within dense, urban areas makes them fundamentally tied to ideas of environmental justice. This aspect of gardens may make them ripe for collaboration with local environmental organizations such as PERRO given the relative overlap in what both organizations stand for.
Sources
Birky, Joshua, "The Modern Community Garden Movement in the United States: Its Roots, its Current Condition and its Prospects for the Future" (2009). USF Tampa Graduate Theses and Dissertations.
Chase, Brett. 2022. "City announces big environmental impact study as Pilsen residents protest metal shredder." Chicago Sun-Times.
Chicago Department of Public Health, PHAME Center at UIC, and Metopio. 2023. "Chicago Health Atlas." Chicago Health Atlas.
Cumbers, A., Shaw, D., Crossan, J., & McMaster, R. (2018). The Work of Community Gardens: Reclaiming Place for Community in the City. Work, Employment and Society, 32(1), 133–149.
EPA. 2022. "Environmental Issues in Chicago's Little Village & Pilsen Neighborhoods | US EPA." Environmental Protection Agency.
Erne, Ann. 2016. "Community Gardens and Environmental Justice in the LA Area: A Comparative Analysis." Center for Urban Resilience Research Posters, 28.
Harris, Tonyisha, and Iyana Simba. 2022. "A Look at Chicago's Environmental Justice Battles, Impacts and Solutions." Illinois Environmental Council.
Kennedy, Michael J. 2014. "COMMUNITY GARDENS AND ECOLOGICAL CITIZENSHIP: THEIR POTENTIAL AND LIMITATIONS IN FOSTERING ENVIRONMENTALISM." SIUC Graduate School Research Papers, (April), 1-46.
Krasny, Marianne E. and Tidball, Keith G. (2009) "Community Gardens as Contexts for Science, Stewardship, and Civic Action Learning," Cities and the Environment (CATE): Vol. 2: Iss. 1, Article 8
McIlvaine-Newsad, Heather and Porter, Rob. "How Does Your Garden Grow? Environmental Justice Aspects of Community Gardens." Journal of Ecological Anthropology 16, no. 1 (2013): 69-75.
Mulvihill, Keith. 2020. "Environmental Justice in Chicago: It's Been One Battle After Another."
NeighborSpace. n.d. "La Huerta Roots and Rays – NeighborSpace." NeighborSpace. Accessed May 10, 2023.
NeighborSpace. n.d. "Xochiquetzal Peace Garden – NeighborSpace." NeighborSpace. Accessed May 10, 2023.
Pilsen Environmental Rights and Reform Organization. 2023. "PERRO." PERRO.
Savedra, Madison. 2022. "Pilsen Peace Garden Will Get Much-Needed Repairs After Volunteers Meet Fundraising Goal." Block Club Chicago.
Schroeder, Robert. 2015. "Environmental Justice is Chicago Teens' Mission | College of Education | University of Illinois Chicago." College of Education.